May 14, 2004
Little-known tail waters may offer fantastic fly fishing
Todd Grooms shows off a trophy cutthroat recently taken in an area tail water. Grooms caught the trout using a size 22 Mayfly Emerger.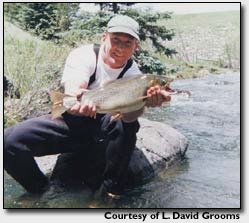 Even if one tail water gets blown out from rains and muddy tributaries, lake turn-over, or inordinately high or low flows - somewhere in your area, there will be one that probably affords outstanding fly fishing opportunities.
Tail waters are, by fly fishing definition, those streams or rivers below reservoir, lake or pond impoundments that provide an almost constant supply of excellent water quality, generally consistent flows and an exceptionally rich entomological subsistence base for trout.
Actually, the majority of our touted fly fishing destinations are tail waters. Most of us have either fished or intend to fish such famous waters as the San Juan, Green, Bighorn, Madison, South Platte, Frying Pan and numerous others. But, many of these noted waters are more than a few hours drive.
So, what do we do if our area freestone rivers or creeks are running like chocolate syrup from rains or springtime snowmelt, we desperately need to wet some flies, and we only have limited time?
Stop - go back, and re-read the simple description of tail water. Then, think about your immediate vicinity. Get a copy of the DeLorme Atlas & Gazetteer State Topo Maps and do some homework that most fly fishers have fortunately overlooked. You will, of course, find the highly publicized area fly fishing tail waters below prominent lakes and reservoirs - but, you will also discover innumerable trout waters that are not well-known.
When I checked my state DeLorme Atlas, I found over 30 possible tail water fly fishing options within a two-hour drive. Most will have public access and you can literally park within 50 feet of the stream or riverbank of many. I have seen record-class Brook and Cutthroat trout along with gorgeous browns and rainbows released in some of our area's little-known waters.
Thousands of motorists pass by some of these streams and rivers daily and never "have a clue" about their fly fishing potential. More than a few of these productive tail waters run through USFS campgrounds and are presumed to be just another "over-fished public water." Typically, these inconspicuous or seldom-publicized tail waters do not have fly-and-lure only, or catch-and-release restrictions that serve as announcements to attract fly fishers. Also, they won't have impressive reports of "thousands of trout per mile" or be acclaimed as "trophy trout water." Consequently, there won't be hoards of fly fishers jockeying for position as with some of the bigger and more prominent rivers. But knowledgeable fly fishers won't regard "the absence of fly fishers or publicity" to be a relevant factor.
Do we really need thousands of trout per mile to have an outstanding day on the water? For me, a few "spunky" smaller trout or the chance to hook-up a 14- to 16-incher that goes ballistic with spectacular aerobatics is one of the ultimate fly fishing experiences. Some of these seldom-if-ever-caught trout will definitely exhibit the impressive vitality and beauty of truly wild fish.
Riparian ambience and privacy can usually be found by walking a mere few hundred yards away from access points. A 15-minute hike may allow a fly fisher to become immersed in the outback quiet of a pristine tail water stream or river as peaceful and serene as any wilderness expedition.
Presumptions of not being able to fly fish because your local river may be high or muddy are just not all that valid if your or your friend's automobile is still operative. A little outback tail water adventure is the perfect reason to overcome flimsy "can't fish" excuses.
Many of these "below dam" waters are in alpine settings that are vacation or weekend get-a-way paradises where visitors may have somehow forgot to bring their fly rods. Round up your friends or family and bring your fly gear. Escape the heat, the crowds and all those famous fly fishing destinations.
Besides, I don't think you would have been able to catch thousands of trout per mile anyway!
L. David Grooms is senior partner of www.proFlyFishers.com.
He can be reached at (970) 385-9048.