April 30, 2004
Fishing partners shouldn't 'muddy the water'
Ancestors of this brown trout have been in San Juan streams for almost 100 years.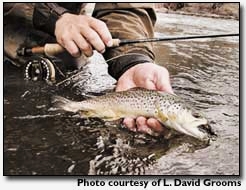 Hungry trout, snow-capped mountain peaks, cold clear waters, budding leaves and flowers, green grass and clover patches, and wild critters on the loose - it is all just too good to ignore.
Fly fishers typically have extremely low levels of resistance, or totally lack the ability to say "No" when they get an invitation to go fish. Add the aforementioned conditions to an offer to "test the private water" on a large high country ranch, and resistance levels plummet!
It was obviously a tough decision when local realtor Thad Trujillo suggested that we find out if the wild brown trout on his friend's ranch would eat artificial flies. It took me up to at least a few seconds to weigh the variables and to accept. The opportunity to fish this private stream with good company like Thad is an experience that every fly fisher should value. However, fishing small, clear alpine creeks with others may impose important considerations.
I have only met a few fly fishers who were adept at fishing small water with spooky trout and sharing the stream so everyone had equal chances to "test the water." Actually, sharing a riverbank or good holding lies on big rivers should also require the same sensitivity. But, on small creeks, partner-fishing courtesy may determine whether or not you are invited back.
For me, it was not about the "private water access," but about fishing the same way I would fish with anyone, anywhere. For professionals in the business, fly fishing is usually about making sure everyone has hook-ups. By my standards, it is not about winning contests, kicking butt or impressing yourself and others - except maybe through the dignity of your conduct. What does seem to happen with some fly fishing partners is that they may in fact think it is a competitive thing (friendly bets should be okay, I think). Or even more likely, fly fishers sometimes simply get so excited about catching a trout that their otherwise rational behavior is overshadowed by "buck fever" (a phenomenon where the excitement of the hunt turns people into complete dummies).
Another factor is that fly fishers oftentimes do not realize that spooky fish may run and hide for hours if they see an anthropomorphic predator waving a fly rod. With that said it is apparent why partner fishing can become a sensitive issue - unless it is done with what I call rules and respect.
When Thad and I first approached the ranch water, he selected the perfect fishy water and then insisted that I go first. I was thinking, "Well, okay, but don't break my arm - particularly my casting arm." He went downstream a bit and we "tested the water." After I had caught two nice Browns, I noticed that Thad had yet to get a hook-up - so I stopped fishing. He had obviously assigned me the best spot. I had been watching a bigger trout surfacing, so it was my turn to insist that he feed that fish a fly. We discussed the patterns that I had been using, and in short order, he released our biggest trout of the day.
I also know Mr. Trujillo to be a professional outdoorsman and very respected big game archery guide. And, his parents should no doubt get "a lot of points" for training him well about the rules for chasing wild trout. Thad's ego will just have to "get over" the complements - but our great fly fishy outing and his exemplary protocol was a perfect excuse for my "soap box" about partner-fishing. It is a topic that surfaces fairly often amongst fly fishers - and a subject with varying outcomes.
Catching a trout or watching others do it on an incredible Colorado stream or river is too fantastic to ever "muddy the water."
L. David Grooms is senior partner of www.proFlyFishers.com.
He can be reached at (970) 385-9048.