Cloud of discord hangs over proposed erosion control
City restrictions go beyond U.S. law
August 31, 2003
By Dale Rodebaugh
Herald Staff Writer
As the requirements of the federal Clean Water Act trickle down to smaller cities, Durango is considering an erosion-control measure that isnít popular in all quarters.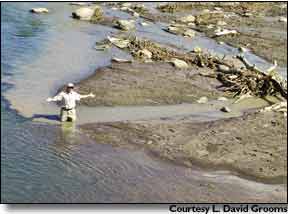 Mike Paterniti stands in the Animas River at the confluence with Lightner Creek to call attention to the debris and dirt that wash into the river from various sources. Paterniti is a partner in the fishing business proFlyFishers.
While outdoor interests hail the measure for its protection of waterways, builders say itís an additional burden Ė one of questionable results and unknown cost.
The proposed amendment to the cityís Land Use and Development Code would require builders to obtain a permit before they break ground.
Builders would have to explain how they intend to keep sediment out of storm drains Ė and ultimately the Animas River Ė and how they plan to stabilize the landscape after construction.
No one knows how much sediment and debris finds its way now into the Animas River, a gold-medal fishing area through Durango.
Although the amount hasnít been quantified, itís certainly visible, according to Mike Paterniti.
"Itís evident from walking the river that damage is being done," said Paterniti, a partner in proFlyFishers, which offers clinics and package trips.
In fact, Paterniti almost three weeks ago alerted the federal Environmental Protection Agency about two stretches of the Animas River where debris and sediment have collected.
"There is a colossal quantity of material that is waiting for the next rains to bring it down," Paterniti said.
"There is natural erosion, but weíre compounding it," he said, pointing to private, city, county and state contributors.
The sections of the Animas that concern Paterniti are Schneider Park near River City Hall, where a culvert empties into the river, and the confluence of Lightner Creek about a mile downstream.
The areas are spawning grounds for cutthroat and rainbow trout in the spring and the brown trout in the fall, Paterniti said.
Pollution can start a domino effect, Paterniti said. If silt and debris cover their spawning grounds, fish may move to other areas, increasing pressure there.
Pollution also affects food availability and ultimately could change the dietary habits of fish and their reproduction cycle, Paterniti said.
Jon Tuthill, an area contractor for 22 years and currently president of the Homebuilders Association of Southwest Colorado, doesnít quibble with controlling construction pollution.
But Tuthill is concerned about what he considers creeping government oversight, the effects and costs of which are passed to homeowners.
He estimated the code change could add up to $3,000 to the cost of a new home, depending on the complexity of the mitigation required.
"This is going to affect our ability to produce affordable housing," Tuthill said.
Bradley Elder, whoís been building houses in the area for 15 years, doesnít oppose the code amendment outright. But he questions its effectiveness and thinks there is a better way to accomplish the same ends.
"How much sediment are they going to stop?" Elder asked. "If you check the Animas at the 32nd Street Bridge where it enters town and then where it leaves there may not be not be any great degree of difference."
While the cumulative effects of sediment and debris shouldnít be disregarded, officials should look at the big contributors, Elder said.
"My thought is that one hour of flow off Missionary Ridge would equal a year of storm drain flow," Elder said.
"It may well be that because of regulations, we canít do anything," Elder said. "But itís worth thinking about other solutions."
Whatever action is taken, it should be done now, Paterniti said.
Over the years, Paterniti said, the Animas River has bounced back from the effects of mining, forest fires and indiscriminate land management.
But failure to deal with erosion control will put the blame for further deterioration on the shoulders of current stakeholders, Paterniti said.
Reach Staff Writer Dale Rodebaugh at daler@durangoherald.com
City restrictions go beyond U.S. law
By Dale Rodebaugh
Herald Staff Writer
Itís been a long time coming, but small-town America is now feeling the effects of a 1972 federal law that became known as the Clean Water Act.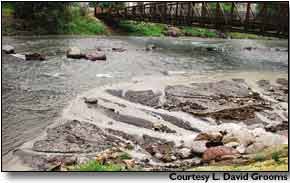 Silt and debris that has washed into the Animas River can contribute to the deterioration of the highly prized fishery. This photo shows detritus from a culvert on the east side of the Animas River near Schneider Park.
Modified numerous times over the years, a 1990 provision established requirements for storm-water systems in cities with more than 100,000 population. Now, cities the size of Durango fall under the guidelines.
The goal is to prevent sediment and debris from entering water-discharge systems and, in the end, creeks and rivers.
For its part, Colorado has required a storm-water discharge permit for projects involving 5 acres or more since 1992. Last year, projects of 1 acre or more triggered the need for a permit.
Now, a proposed Durango ordinance would require developers of a Ĺ-acre project to get a permit. The intent is to control sediment and debris that is carried off-site by construction vehicles or is washed off-site.
Up to now, general contractors and subcontractors working in the city tend to blame each other for pollution, said Kinsey Holton, a city environmental engineer. A code change would require the lot owner to provide a vehicle-tracking system to determine responsibility.
Whatís next
Durango city councilors will conduct a hearing Tuesday on the proposed erosion-control and storm-water quality amendment to the Land Use and Development Code.
City planning commissioners approved the measure 5-0 last week.
The city plans to offer a 1Ĺ-day storm-water management class Oct. 14-15. Information on enrollment, cost and class content are available from city environmental engineer Kinsey Holton at 385-2848.
Agricultural activities are exempt from the regulations.
If Durango city councilors approve the code change, builders will need a city and a state erosion-control permit for about six months. After that, the city will assume responsibility for issuing permits for projects covering from Ĺ-acre to 5 acres.
The only state permit required will be for projects of more than 5 acres.
Durango itself will have to meet discharge requirements, Holton said. The city already does the following:
Hauls 20,000 cubic yards of snow swept from streets to 17 acres along Highway 550/160 to melt instead of being dumped into the Animas River. Water percolates into the ground and debris is collected after the snow melts.
Five hundred cubic yards of sand and 20,000 gallons of magnesium chloride used in snow cleanup are swept up in the process.

Operates a detention basin at the Durango Community Recreation Center to catch runoff.